Rolls-Royce Cullinan
The unmatched Rolls-Royce Cullinan is more than a feat of engineering -- it is a masterpiece of artisanal craftsmanship, a testament to the power of what the world's most talented humans are capable of. Beyond elevating transportation to its highest, most fully realized ideal, every new Cullinan in Southern California celebrates the timeless art of creating magnificence by hand rather than by machine.
Fittingly endowed with the name of the most massive diamond ever unearthed, the iconic Cullinan is the true gemstone of ultra-luxury vehicles. Put simply, this SUV has an appeal as evergreen as the Spirit of Ecstasy herself -- and you can see why by scheduling a Cullinan test-drive at our Rolls-Royce retailer near Culver City today.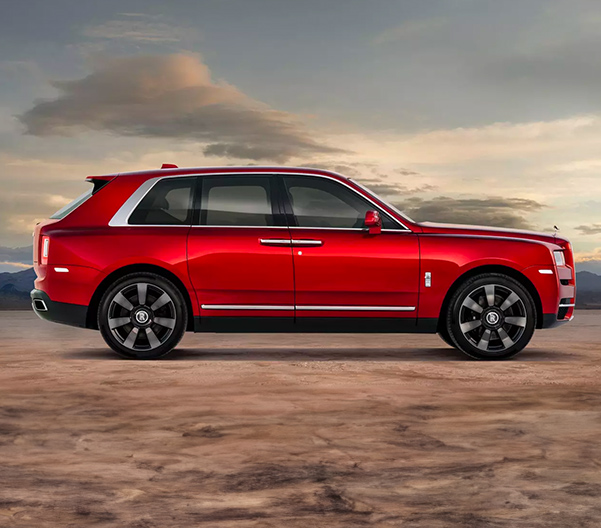 Distinctive Features of the Rolls-Royce Cullinan
Longtime Culver City Rolls-Royce fans will find that many of the iconic Cullinan features echo the rich lineage of their favorite motorcar manufacturer. Such features include the branded umbrellas encased within opposite-hinged doors that, when simultaneously opened, offer a grand, elegant invitation to come sit and repose. Such dramatic, distinctive design flourishes help distinguish the new Rolls-Royce Cullinan from anything else on the road.
Other classic Rolls-Royce features that may be found on new Cullinan trims include:
Self-Righting Wheel Centers
Pantheon grille
Hand-crafted personalization options
Rear champagne cooler or whisky decanter
Rolls-Royce Cullinan Interior Facilities
The opulent Cullinan interior features an optional Bespoke Viewing Suite, which constitutes two lavishly upholstered leather seats and an accompanying cocktail table. Once deployed from the rear hatch, the Viewing Suite provides an elegantly modern tailgating option. The Immersive Seating configuration is a similarly elegant feature that replaces the standard rear bench seat with two plush captain's chairs.
Additional Cullinan features may include:
Elevated rear seating
Glass partition between the luggage compartment and rear seat
Tilting, retracting sunroof
18-speaker Bespoke Audio System
Personalize a Rolls-Royce Cullinan Near Culver City, CA
The Rolls-Royce Bespoke services grant you the freedom to special order a new Cullinan near Culver City with absolute ease. The process begins with deciding on unique motifs, colors or wood veneers in conjunction with the brand's designers, who you'll work directly with to realize your vision. The result is a new Rolls-Royce SUV that is strictly and entirely your own.
For further information regarding Cullinan pricing or other purchasing details, kindly contact Rolls-Royce Motor Cars Beverly Hills. Our team is eager to introduce you to a dramatic new level of luxury and refinement -- one that is the essence of every Rolls-Royce Cullinan for sale near Culver City.